---
-By Dina Rasor
July 5, 2012- We interact with nonprofit organizations every day - little league, Girl Scouts, churches, League of Woman Voters, the PTA, the Rotary Club, volunteer firefighter organizations and veterans' service organizations. The US tax law set up two main types of nonprofit organizations to help the general society. The IRS describes them this way:
501(c)3 non profit organization - Religious, Educational, Charitable, Scientific, Literary, Testing for Public Safety, to Foster National or International Amateur Sports Competition, or Prevention of Cruelty to Children or Animals Organizations.

501(c)4 non profit organization - Civic Leagues, Social Welfare Organizations and Local Associations of Employees
C3 organizations do not have to pay tax on their income, and donors can take a charitable tax deduction. C3 organizations are not allowed to be involved in political campaigns, but can do limited lobbying for legislation that involves their mission.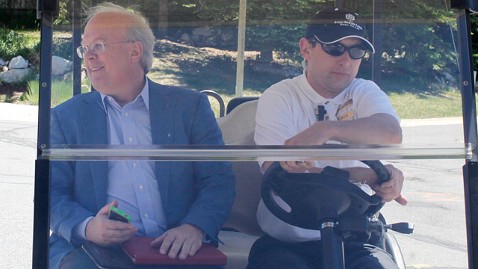 -By Arlette Saenz and Shushannah Walshe
June 24, 2012- Mitt Romney's donors attended a golf outing today at the Red Ledges Gold Club in Heber, Utah, but the excitement was really what went on Friday and Saturday at the events and panels. Romney's top donors were treated to panels on specialized policy topics, such as healthcare or the financial services industry, heard speeches from stars of the Republican Party, such as former Secretary of State Condoleezza Rice and former Florida Gov. Jeb Bush, and were granted access to the presidential candidate's senior advisors for information about the inner workings of the campaign. All events were closed to reporters, but ABC News has the rundown of some of what these donors were privileged to hear.
-By Sam Stein
June 21, 2012- The Obama campaign's top lawyer fired off a letter to Karl Rove Thursday, demanding a retraction of a "mystifying" comment Rove made and raising questions about his upcoming appearance at a Mitt Romney campaign event.
The letter is the second that Bob Bauer has sent to Rove this week. The first argued that Rove could no longer insist that his advocacy group, Crossroads GPS, was policy oriented -- a distinction that allowed it to shield the names of its donors. The follow-up letter, obtained by The Huffington Post, makes that same point, arguing that there is no "social welfare" component to the group's operations.
-By Eric Kleefeld
June 13, 2012- The Karl Rove-founded American Crossroads and Crossroads GPS have rolled out another new round of attack ads, totaling $4.6 million across six key Senate races.
The ads target two incumbent Democratic Sens. Claire McCaskill in Missouri, and Sherrod Brown in Ohio; three candidates for open Democratic-held seats in Nebraska, North Dakota and Virginia; plus one Democratic challenger for a Republican-held seat, Rep. Shelley Berkley in Nevada.
The ad in Missouri: "Sen. Claire McCaskill was a key Obama adviser in passing his failed $1.18 trillion stimulus. Claire's vote sent nearly $2 million to California, to collect ants — in Africa. Twenty-five million for new chairlifts and snow-making in Vermont. Almost $300,000 in Texas to study weather — on Venus. While in Missouri, 16,000 have lost their jobs."
-By Peter H Stone
June 16, 2012- Casino billionaire Sheldon Adelson, whose net worth makes him one of the world's richest men, is on a check-writing spree that will soon bring his total political contributions in this election cycle to at least $71 million, according to sources familiar with his spending. That money is spread across the spectrum of GOP super PACs, which are required to disclose donors, and nonprofits, which are not.
Adelson and his wife, Miriam, along with other family donations, have already reached $36 million, including $10 million to the Romney-backing super PAC Restore Our Future that was reported this week. But two GOP fundraisers familiar with his plans say that Adelson has given or pledged at least $35 million more to three conservative nonprofit groups: the Karl Rove-linked Crossroads GPS, another with ties to billionaires Charles and David Koch and a third with links to House Majority Leader Eric Cantor (R-Va.).
-By Oliver Willis, Media Matters for America
June 10, 2012- Fox News' Karl Rove problem just keeps getting worse.
This morning, President Obama held a press conference to discuss the state of the economy and renew his call for Congress to pass a jobs bill. After the conclusion of Obama's remarks, Fox host Jon Scott told viewers they would "be hearing from a couple of congressional leaders on the Republican side" later in the day. Apparently too impatient to wait for the official Republican response, Fox brought on Karl Rove - its own contributor/anti-Obama super PAC co-founder - to attack Obama in the meantime.
Predictably, Rove used his Fox platform to launch a series of misleading talking points at the president.
-By Jeremy W. Peters
May 22, 2012- The ad is the work of two of the most fearsome players in Republican politics: Larry McCarthy, the producer behind the infamous Willie Horton commercial in 1988, and Crossroads GPS, the political battle squad founded by Karl Rove.
When it makes its debut Wednesday in 10 swing states as the centerpiece of a $25 million campaign, it is expected to become one of the most heavily broadcast political commercials of this phase of the general election.
Yet what Mr. McCarthy and Crossroads have produced is not the kind of searing denunciation of President Obama that their track records would suggest. More soft-pedal than Swift Boat, the 60-second advertisement, complete with special effects, is a deeply researched, delicately worded story of a struggling family; its relatively low-key tone is all the more striking, coming at a point in the campaign when each side is accusing the other of excessive negativity.
-by Pema Levy
May 22, 2012- Crossroads GPS, the nonprofit affiliate of Karl Rove's American Crossroads, will go up on air Wednesday with a new ad to push the idea that President Obama has failed to help American families, reports the New York Times. More subtle than ads which call the president radical or argue that he lacks integrity, the team at Crossroads determined that the most effective attack on Obama was to strike a softer, disappointed tone.
The new ad will air in 10 swing states as the "centerpiece" of the group's $25 million on air offensive this month and will likely be, according to the Times, "one of the most heavily broadcast political commercials of this phase of the general election."
Called "Basketball," the ad features a mother who's worried because her adult children have moved home after being unable to find jobs.